Incoming!
Our Holiday in California
Summer 2002
Just a quiet holiday, shortly after we arrived here.
With Grandma and Grandpops.
Oh yes, and Uncle Nick.
And his Harley Davidson.
Oh, and Anne Rooney turned up too...
And Lauren, Alice's duck-group soulmate
And the inimitable and in-miniaturable Luki.
The whole gang of us whooped around San Francisco having fun and embarassing people.
Nick, Anne, Lauren, Alice, Henry, Andrew, Helen, Grandma Sylvia, Luki... Oh yes and Grandpa taking the photo.
This great holiday was subsequently immortalised in an epic poem by Uncle Nick.
Here's the whole gang, across the Bay from San Francisco.
---
Nick kindly hired the noisiest motorcycle he could find to drive us all round California.
Here's Nick with a bunch of chicks he picked up along the freeway...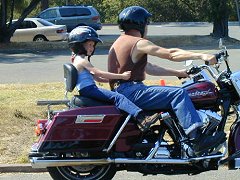 Luki. Her feet nearly reach the pedals.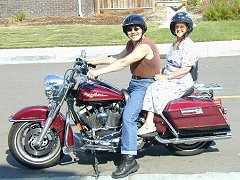 Grandma. Lookin' cool Ma.
Helen. It was the last we saw of her. Off to Mendicino to live with the Hells Angels.
---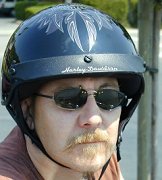 Nick looked mean and moody in the Harley Davidson gear.
---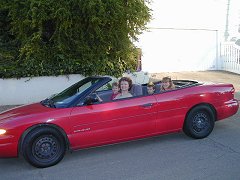 The babes also hung out in the convertible, picking up the young men.
---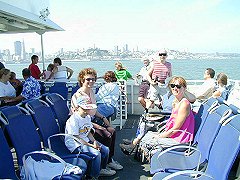 Off for a day in San Francisco on the Ferry.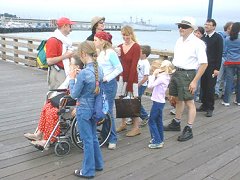 Grandpops keeps his hat on. And the tour leader rounds up the troops (they didn't tip very well...)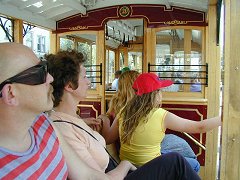 Riding the cable car round the sights.
---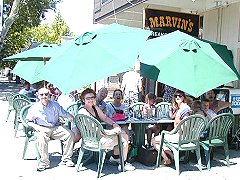 Sunday Brunch at Marvins - hot cakes and sunstroke.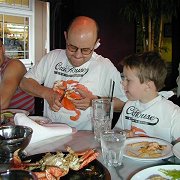 And crustacians by the ton. Yum.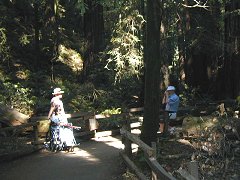 Muir Woods is an amazing place, with thousand year-old Redwood trees towering above you.
---
And a postcard home to an absent friend...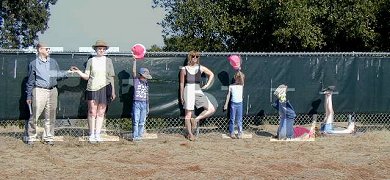 Yes its the human message... Forget SMS this is HMS. The message (in case you couldn't spot it) reads 'Hi Bill'.
---
Visit to Marine World
A great day out to the Six Flags Marine World. Shamu's no longer around and they've dismantled the killer whale tanks to make room for the rides. Oh well. Go with the flow.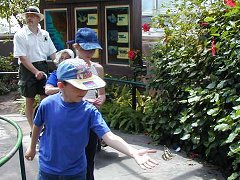 The butterfly house is spectacular. Henry gets to shake hands with the lepidoptera.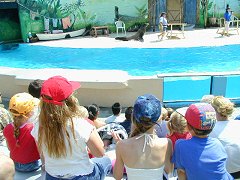 The seals put on a bit of slapstick for the younger audience. How we laughed. Not! More Dignity for Seals campaign coming up...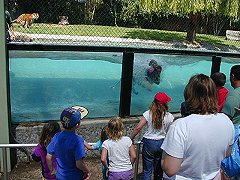 Swimming Tiger, Crouching Children. Amazing to see the white tigers romping in the water tanks, splashing the audience. Who said cats don't like water?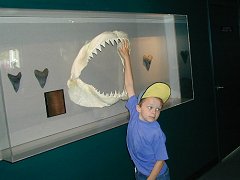 There's no beating the sharks though. Henry takes a deep interest in orthodontistry and tries to figure out how many bites this guy would take to swallow him. Er, one, Henry.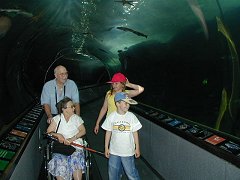 Deep in the aquarium you get to see the live sharks up close and personal. Grandma and Grandpops get down to five fathoms with Alice and Henry.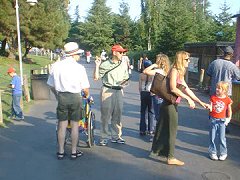 The tour leader was a bit of a fascist, sad to say. He was for ever ordering people about and setting times to meet up.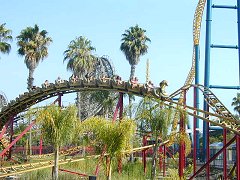 And then there were the rides. Once we'd got the educational stuff out of the way we could get on with the real business of the park - hanging upside down from thin monorails. Here the Cobra gets the rollercoastering underway.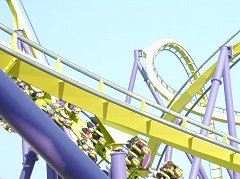 But wickedest of all was the Medusa. A mile of corkscrewing track that has you screaming for four minutes.
And guess who went on it? This blow-up the picture (enlarged from the shot above it) shows Andrew (bottom right) and Grandma (top left) hanging upside down. Andrew is shouting "Let me out of here" and Grandma is calmly doing her knitting.
What a great day out.
---
Nick's California Holiday Poem
Some poetry to thank you all
A kind of Californian drawl
Downtown Novato hire a car
Down Nave/Ignacio not too far
Wheelchair dodge that trolley car
Market and Powell it's not that far
How many cents are in a dime?
Lori's Diner feeding time
Bouffant brothers photo booth
Tooth fairy cometh $5 a tooth
Pinball Wizard, Henry and Flippers
Moondog eaters and Cranberry sippers
Killer Crab down on the Wharf
Yellow Brick Road (singing dwarf)
Follow Follow Follow Follow
Frisco today, chill out tomorrow
Children you should wear a hat
"Luki please, stop doing that"
Henry's Gameboy Pokemon fighting
All those postcards Grandma's writing
Giant Redwoods in the sky
A thousand years have passed them by
Snow white Tigers in the Water
Mood change jewelry for your daughter
Granny spinning on Medusa
A beer for me "Some wine for you sir?"
Harley roaring to the pool
Sun beating down but I feel cool
Tiny hands "You hold on tight"
Down Hangar Lane we'll 'hang-a' right
Alcatraz "My name's Capone"
Coburn cousins on the phone
Rolling Mist the Golden Gate
We're all yawning (getting late)
Fung Shui trickling water feature
Feed Georgio, elusive creature
Game of J'accuse - Mussolini (again)
Don't challenge the scribe… Who's got the pen?
Finding Stars "There's Cassiopeia"
Just gonna get another beer
Gazing at the waxing moon
Sunny California… See y'all soon!
---