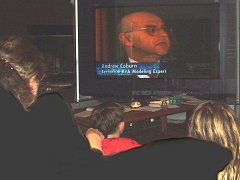 Dad's on TV
Explosive Program
The Discovery Channel produced a program on the Beirut barracks bombing of 1983 in their series 'Unsolved Histories'. Andrew and Hemant Shah were talking heads. A day of filming for a few minutes of footage...
_________________________________
Catastrophe, Injury and Insurance
RMS published a study of the impact of catastrophes on life and health insurance. Authored by Coburn and Alie Cohen it looked at earthquakes, terrorism industrial accidents and contagious diseases, like flu.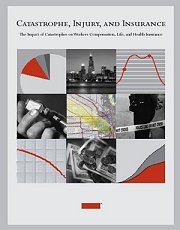 Report available on RMS.com
_________________________________
RAND Center
RAND and RMS raised the funding needed for their Center for Terrorism Risk Management Policy. Andrew has a position on the Advisory Board.
_________________________________
Pat Pending
RMS applied for a patent (Number 10/797.143 for you trivia buffs) for its accumulation algorithm in its software. The patent cites Coburn and two colleagues, Weimin Dong and Han Chen, for developing the idea, which 'spiders' a portfolio.

Expanding Horizons: Shrinking Cities
Helen is teaming up with other members of her department at Berkeley in a poly-dimensional, multi-national study of shrinking cities. First milestone: a round-table session to be held in Vienna in July 2005.
_________________________________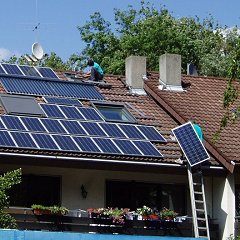 Photovoltaic and solar thermal panels being installed in Freiburg, Germany
New Under The Sun
Helen presented her research on low-energy buildings in California at the EuroSun conference in Freiburg and sneaked a mini-research trip in Germany and Switzerland. Merci bien for their French hospitality to Fathia & Christian, Carol & Etienne, Jean et Jeanne.
_________________________________
Screenwriting Evenings
INT. PUB - NIGHT
Two people sit cradling drinks...
ANDREW
So - gotta script ready for the Screenwriter's meeting tonight?
HELEN
Oh yeh! Too #*@&ing right! 'Bigfoot and Ricochet' - romantic comedy set in Enron. You?
ANDREW
Yup. 'Boiled Frogs'. Y'know - action thriller. Hey Look Out!
Loud explosion. Helen dives and pushes him under the table.
ANDREW
Darling - You saved my life!
HELEN
Only because it's your round.
They kiss, passionately.
FADE OUT.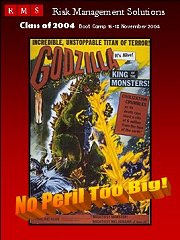 Monster Year
for RMS
At the risk of sounding like a Soviet communiqué, Risk Management Solutions had another great year. Earnings were up 62% and all the other business metrics were very positive (iron-smelting quota up 26% etc...). 80 new employees were hired to meet the demand for products and services. Dr. C's contribution to their training (poor things) consisted of a hands-on exercise to develop a Godzilla catastrophe model.
Terror Now A Fact of Life
Terrorism risk models were in demand. More than 100 companies now model their terrorism risk using the RMS model, reflecting an adoption by the marketplace and perhaps a recognition that it is a fact of life to be lived with. Andrew helped develop a new global terrorism model that covers every country in the world.
Modeling More Risk
RMS also has a strategic objective to embrace a wider range of risk for clients. The Research team explored new areas of modeling risk with articles and analysis of computer viruses, industrial accidents, power outages and environmental disasters. Further nightmares coming soon...
_________________________________
Administrative Affairs
Ever the sucker for punishment, Helen signed up for an evening programme - Berkeley's MBA Foundation Course. She's now halfway to a Certificate in Business Administration.