Coburns Down Under
A great holiday - er business trip - in Australia. Sydney in February is glorious compared with grizzly old England. The need to gather good data on cyclones in Queensland took Coburn diving on the Barrier Reef.
Olympic Stadium
Helen made a site visit to the new Homebush Bay Stadium under construction for the Sydney 2000 Olympics - she has been involved in ventilation modelling for the project this year. The children got to enjoy a lot of blissful swimming and cuddled up to a koala. We got one of those hats with corks round the brim of course.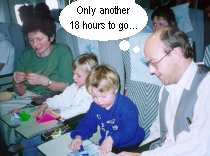 _________________________________
Florida Adventures
We ended the year with a blockbuster family holiday to Orlando, to track down the elusive mouse and his compatriots. There were 18 oz T-bone steaks for Grandpops Coburn, space-shuttles for Uncle Nick, stingrays to stroke for Alice and a ride on Dumbo for Henry. Helen enjoyed the Alien Encounter and Andy got into blueberry pancakes in a big way. The pool, the palm trees, the azure sky, the alligators...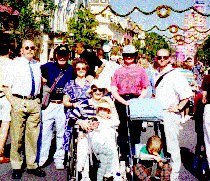 _________________________________
Photo Finnish
The summer brought a new addition to 2 Rock Road Incorporated. From Finland we welcomed Sanna, (she's the one at the bottom) our indispensable au pair. Alice and Henry had a wonderful time perfecting their cartwheeling technique, acquiring lots of Finnish vocabulary (if not the fiendish grammar), and even learning to appreciate meatballs.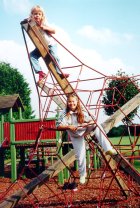 _________________________________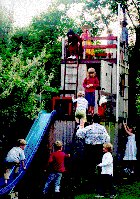 Top Notch
Alice's friends were delighted that a top storey to Plum Tree Cottage was inaugurated on her sixth birthday, in June. The ladder was in place, the guardrails securely fixed, and small objects (like Henry) could be hurled with glee from the ramparts.
_________________________________

Forty Somethings
There's a seven in the year so its our big anniversary time. Helen turned 40, Andy and Helen celebrated their 10th anniversary and Edna, Helen's mum, gave a big party for her 70th. Also ten years ago, C.A.R. was founded (see Business Section) and Ph.Ds were finished. What a year '87 was.
_________________________________

Spider Invasion
Suddenly in mid-July the garden was filled with monster arachnipods spinning giant webs. Daily stock-takes revealed that they didn't get any of the children.