---
2002
U.S. Edition
---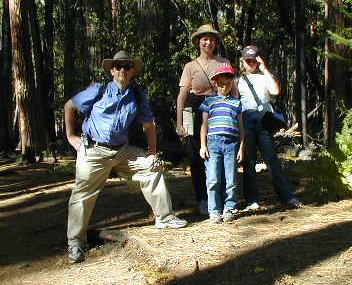 It's behind you! The bear hunt through the giant sequoia trees in Yosemite national park was unsuccessful (thankfully).
Coburns in California
The Great American Adventure is underway. We packed up and moved to the US in August, renting a house in the Oakland Hills overlooking the San Francisco bay. California's looking good so far - but where are all the bears?
So begins our stay in the San Francisco Bay Area, for the next couple of years. Alice and Henry are enrolled at Bentley School in Oakland. Helen is a Visiting Scholar at the University of California at Berkeley. Andrew is 'Chief Knowledge Architect' (no, really!) at Risk Management Solutions Inc., whose headquarters are in Newark, just down the freeway. .

Good f'you

The house has great views across the Bay. The sunsets are spectacular. And, if you have a big telescope and it's not too foggy, you can see distant San Francisco city and the Golden Gate Bridge. Honestly...

American home, Japanese car, British wife.

How thrillingly exotic - the garden has a lemon tree! Walnuts! Grapefruit too!

Hello Deer

We are surrounded by big trees and wildlife. So far we have spotted humming birds, blue jays and turkey vultures - and we have seen a deer trot across the road.

But despite a determined expedition and close examination of loads of poo in the woods we still haven't found a continent bear.

Hotel California

We've got mirrors on the ceiling and pink champagne on ice... Come and visit us!

Pilgrims, a turkey and some native Americans - our first Thanksgiving.
---
ENTERTAINMENT
Bumps Party 2002

The sun shone and the entertainment was pure magic.

California Holiday

For the first month in US we assumed the identities of the Schatz/Peele family of Novato. We took over their place - north of the Golden Gate Bridge - while Mark, Amy, Gracie and Bennett stayed at our house in Cambridge.

We fooled everyone except Georgio, the cat - it took a king's ransom in sardines to win him over. .

Uncle Nick Coburn and all

The British are coming!

'You must come and see us', we said. And they did.

A whole gang of us whooped around San Francisco having fun and embarassing people.

Harley rumble - Nick and niece

Uncle Nick thoughtfully hired the noisiest motorcycle he could find to drive us all round California, then went kinda poetical on us: .

Ode to a Hog (extract)

Harley roaring to the pool,

Sun beating down but I feel cool,

Tiny hands: "You hold on tight",

Down Hangar Lane we'll 'hang-a' right...

Nick Coburn

The Bumps party at Ditton Corner saw bright sunshine and oars glinting in the water. Great hats abounded again. .

Oar hero

We witnessed Francis Fawcett - the son of William and Di - getting his oar. His boat caught and bumped the boat ahead on all four days of racing, so Francis gets to take his oar home. His proud parents now need to build a new extension to house it.

Next year we will be having the party again, returning to Ditton Corner to host it. .

Put it on your calendar now.

_________________________________

Coburn and Mulligan

Bumps & Carnage Party

Saturday 14 June 2003

Ditton Corner, Fen Ditton, Cambridge

_________________________________

Big Teeth and Strong Stomachs

Touristy stuff culminated in a great day out to the Six Flags Marine World. Amazing to see the white tigers romping in the water tanks, splashing the audience. Who said cats don't like water? Then there were the sharks... .

...and the rides.

See you in the Med

Once we'd got the educational stuff out of the way we could get on with the real business of the park - hanging upside down from thin monorails. .

Wickedest of all was the Medusa. A mile of corkscrewing track that has you screaming for four minutes. And guess who went on it?
---
BUSINESS SECTION
Carbon Emission Trading project at Berkeley

Helen is spending the next year as a Visiting Scholar at the University of California at Berkeley - that's across the bay from San Francisco, on a beautiful campus with views to die for. Still known by many as Beserkeley, the campus is dedicated to preserving its sixties reputation as the bastion of free speech and inexpensive herbal remedies. .

Her research topic is Carbon emission permit trading in the international marketplace: implications for the built environment. This area is coming to the forefront as a great way for developed countries (in Europe, for example) to meet their promise to limit greenhouse gas emissions under the Kyoto protocol.

Solar City San Francisco

The USA doesn't subscribe to Kyoto - ask George Bush's friends from Dallas why not. But California might just lead the way (as usual) in showing the rest of the US what can be done. The Mayor of San Francisco launched a Solar City initiative to put solar panels on key buildings. Song and dance courtesy of Ms. Bonnie Raitt. Helen was there!

Terrorism attack simulation modeling in New York

Terrorism Insurance Bill Gives Boost to Risk Modeling

Since the World Trade Center attack last year Risk Management Solutions has been helping its clients manage terrorism risk. In November 2002 a Federal Bill was passed providing a US Government backstop for insured losses - and making terrorism exclusion clauses invalid in commercial insurance policies. .

World Class Expertise

This has ensured a surge of interest in RMS capabilities of modeling terrorism attacks. Dr. Coburn has continued to help pioneer the analytical approaches. This has entailed working with some of the world's leading experts on Al Qaeda, from the renowned Centre for Terrorism Studies at St. Andrews University in Scotland.

It also meant working with RAND, the eminent government advisory think-tank, which lead to an invitation from RAND to RMS to form a joint new study center on terrorism risk.

Seminar in New York to launch RMS terrorism risk model

Earthquake Protection

Publication of the Second Edition

Coburn & Spence completed the second edition of Earthquake Protection. The launch party was held at the London Barbican in September at a major conference on earthquake engineering.

Since the publication of the first edition ten years ago, there have been 110 lethal earthquakes, killing 130,000 people. But there have also been major advances in the field of earthquake risk management - including the development of the catastrophe modeling industry. The second edition incorporated a major update and financial modeling chapter. Professor Haresh Shah provided the foreword.

A.W. Coburn, R.J.S. Spence

Earthquake Protection

John Wiley & Sons

ISBN 0-470-84923-1

Available from www.wiley.com
---
SPORT : QUIZ : WEATHER
Baseball

The name's Bonds... Barry Bonds.

Giants Go Nearly All The Way, Urged On By New Fan Base, But Stumble At Top Of Ninth In World Series Final*

(*Parody of American sports newspaper headline).

Brit support proved decisive in getting the Giants into the World Series. We cheered on the ace hitter Barry Bonds as he powered his 599th and 613th homers at the fabulous PacBell Park in San Francisco. But our shouting at the TV proved insufficient to get them to win the 'World Series' against another Californian team. Baseball fact: The Interplanetary playoffs involve teams from as far away as New York.

_________________________________

Karate Kid

Henry (the 8) is learning karate and how to say worder instead of water, and skedyule instead of shedyouall.

U.S. Geological Survey says one's due soon

Quake Watch

Here in California we don't need weather forecasts ('Today will be fine - again...') instead we have earthquake reports. We live smack on top of the Hayward Fault - a probability of 70% of a magnitude 6.7 in the next 30 years. Recent weeks have seen an exciting small earthquake cluster in San Ramon, perhaps the precursor to a monster rumble. Andrew's keeping his fingers crossed (for a big one).

Alice (11) has just completed her first trimester of Blues Harmonica. She's into stonecarving, sculpting a baboon's head for her first project. At least she started at the right end of the baboon...

Mr 'Hershey' Hershcopf, model teacher

Spot the Difference

Humber bridge, Hull, UK, April

Golden Gate bridge, San Francisco, US, September

Answers:

a): 3°C in Hull, 30°C in S.F.

b): Grandma Edna wouldn't be seen dead in Hull

c): the fog on the Humber lasts all winter; the fog on the Golden Gate lasts all summer
---
Cheshire Cat Productions 2002