New School
Alice entered Form 1 at St. John's College School. Year one is, of course, the Romans. This entailed dressing up and hosting a Roman banquet. Thankfully, they don't do orgies until the lower sixth. Henry has a place at St. John's for September 1999.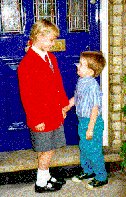 The new schoolgirl and her brother
_________________________________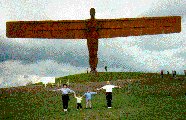 Angels of the North - visit to Anthony Grimley's new sculpture in Gateshead
_________________________________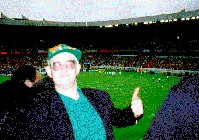 World Cup Football Report
Brazil 3
Chile 1
End-to-end stuff at the Parc des Princes, Paris, as the celebrity crowd were treated to an exhibition of Latin American football. Ronaldo dazzled the terraces and kept off the coke. Brazil of course, went on to lose in the World Cup final to France by a nose.
Livin' in a Lighthouse
Springtime, and Helen ran away to live with a lighthouse keeper on the bleak Northumbrian coast. Andrew and the children came too, for an elevated holiday in the Souter Lighthouse.
Oh Darling
Regaled with tales of Grace Darling's heroism, we fought off flocks of inquisitive puffins in the Farne Islands, collected flotsam and jetsam and drank deeply of the local brew.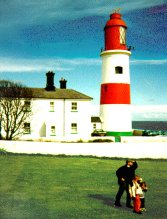 _________________________________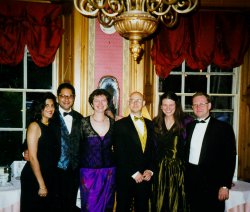 Taking preprandials at the fabulous Peterhouse May Ball with the Cooper-Ruffles and the Shahs.
_________________________________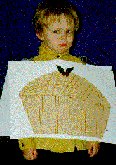 The Reluctant Mince Pie
Henry (4) brings a new approach to method acting in the Christmas play at nursery - well, how do you think a mince pie feels?
That's More Like It
Henry (still 4) puts much more enthusiasm into the role of Ninja warrior in his own production of Captain Bloodbath the Alice Slaughterer.
_________________________________