Take Us Out to the Ball-Game
Our introduction to Baseball. We caught the special Ballgame ferry to Pac Bell Stadium to see the Giants take on the Cubs in a thrilling match that kept our interest going from the first ball onwards.
The ferry was a magical way to arrive and to get home (although we all fell asleep on the boat on the way back).
We had seats right up at the top where we could see everything going on and a fantastic view across the Bay. Spot Alice, Helen and Henry in the crowd. We also met many of your friends who explained to us the finer points. Well actually the coarser points too. But soon we had it kinda figured out and were whooping along with the best of them.
The Giants scored 3 in the first innings. The Cubs came back to take the lead in the sixth. Then in the seventh, big old Barry Bonds came to the plate. He swung. The ball soared and the we all went crazy - he had hit his 599th homer!!! And what a view to match it too!
OK we know we haven't got the terminology right but it was really exciting. Then the Cubs were really mean to him and every time he came back to the plate they spoiled it by pitching to the side so he couldn't hit his 600th. We all booed and the park resounded to 41,991 people making chicken noises.
We didn't miss his 600th entirely however. Two days later we had a trip to San Francisco and were taking the ferry home late at night after dark. Suddenly as we were watching the lights of the city receding into the background, the sky exploded with fireworks. We knew immediately what had happened - Barry Bonds had hit his 600th. Seeing the firework show from the boat over the silhouette of San Francisco was fantastic. So we like to think that we were there when Barry Bonds hit his 599th AND his 600th.
Then it got exciting in the ninth - they brought on Robb Nen their key pitcher to make his 300th save - and with much nail-biting and strategies we couldn't make head or tail of (like why they deliberately let the Cubs load all three bases before trying to strike out the last batter) they completed the save. Giants won 11-10!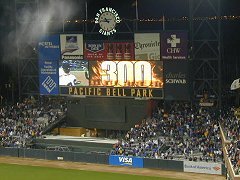 300 saves and the Giants win 11-10!
---